JWW 2021 Calendar - October, November, December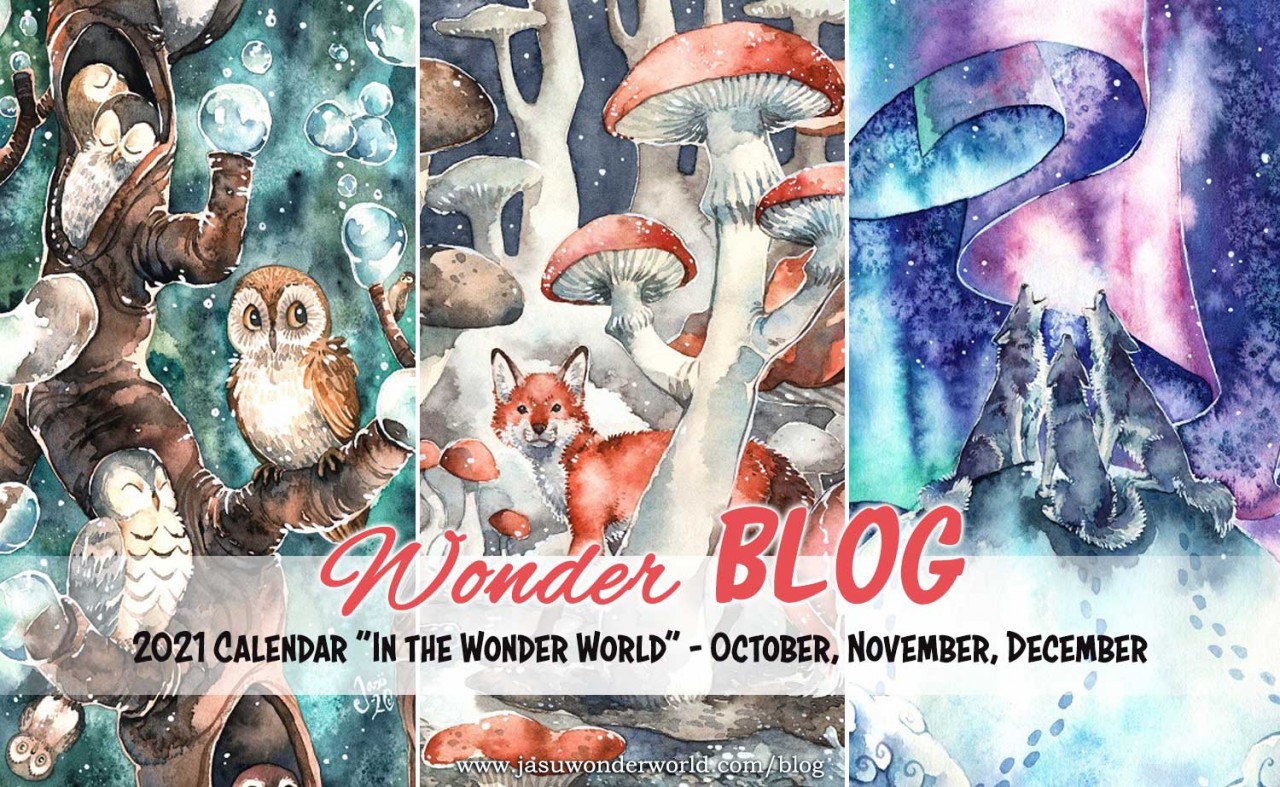 The calendar season is over and it's time to say goodbye to JWW 2021 calendar (and start working on 2022 calendar illustrations). In this blog post I present you with the work-in-progress pictures of the last three illustrations of the calendar; October, November and December.
I also want to thank each and every person who bought a Jasu Wonder World 2021 calendar. My artist work was heavily affected by COVID-19 but the end-of-the-year (calendar)sales really gave me hope and vision to see that I can make my business grow despite the pandemic. That said, enjoy the wip pictures and make sure to subscribe to my YouTube channel. The time-lapse videos of these illustrations will be there sooner or later!
The idea for the illustration of October was "Owl Kingdom". A forest where thousands of owls live in their own communities. I'm not sure where the bubble-blowing trees came from, I just found the idea funny and somehow fitting. Who doesn't like bubbles anyway?
November: a fox in a mushroom forest. Can it really even be a JWW calendar without a fox illustration? By now you might know that in addition to foxes, I love painting and drawing mushrooms for reasons I can't fully explain. There's just some sort of funny beauty in them; their different shapes, sizes and the colors of their hats... You'll be sure to see more mushrooms in my artworks!
December: The sky is dancing to the song of the wolves. In my mind, the wolves "summon" the magical northern lights by their singing.
Here are all the three illustrations fully finished and scanned. All of them are available as prints on Wonder SHOP. The original paintings are also available for purchase.
Stay Informed
When you subscribe to the blog, we will send you an e-mail when there are new updates on the site so you wouldn't miss them.
Comments
No comments made yet. Be the first to submit a comment