JWW 2022 Calendar - January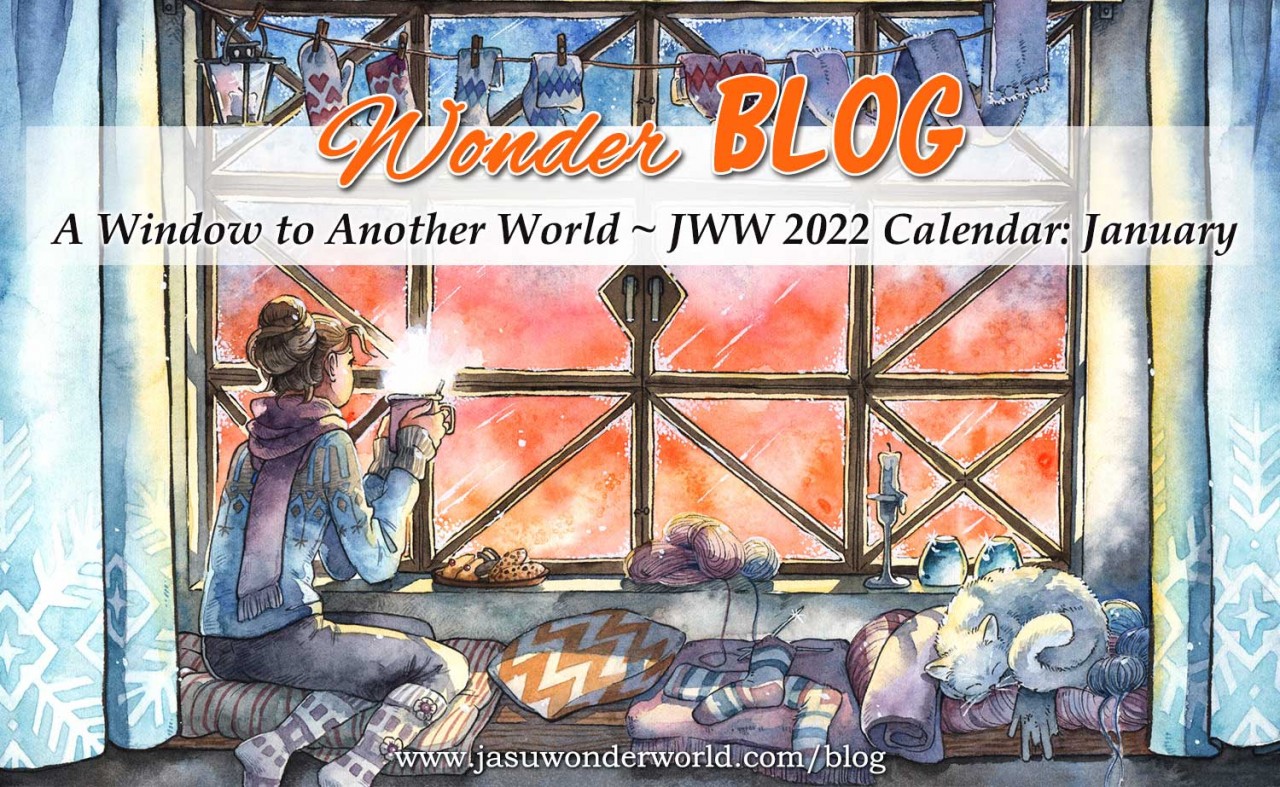 The creation of Jasu Wonder World calendar has begun early this year. For 2022, the theme of the calendar will be "A Window to Another World". We'll be seeing a lot of different windows, that's for sure, and for January I wanted to capture the atmosphere of a cold winter day. I wanted the illustration to look freezing and warm at the same time. Basically everything on the inside looks warm and cozy; the girl dressed up comfortably with a hot drink in her hands, there are pillows and blankets and a fluffy cat... but the atmosphere outside the window tells a story about a cold winter sun, barely showing above the horizon, painting the sky with beautiful colors.
I have created a very simple mini-sketch for all the calendar illustrations, just to summarize the idea. Here you see the one for January. As you may notice, this time I'm creating the illustrations a little differently by using inked outlines. I decided to make a calendar this way just to see how it would look like, and because all the illustrations are going to be quite detailed, and using this kind of lineart will greatly reduce the amount of time I spend working on each illustration. Though, I must say, even with the outlines, to color all these details takes plenty of time anyway.
Even though using these outlines saves me time, I came to realize I stepped right out of my comfort zone by deciding to use them. That was something I did not expect at all. Only a couple of hours into the painting, I was feeling very uncomfortable. It took me several hours of intensive focus (during which I didn't want to eat or do anything else but to just work on this illustration) to get past the feeling and figure out how I wanted to use my dear watercolors now that these outlines were on the paper. At the end I was very happy with the result and painting the next illustrations in line I have not been uncomfortable anymore. I guess it was just a little mental adjustment I needed to make. ;)
As always, my phone does a terrible job at capturing the colors of these illustrations, so please take a look at the scanned illustration below to get an idea of its actual colors.
See a time-lapse of the inking and painting process of this illustration here on Jasuwonderworld YouTube channel~
Stay Informed
When you subscribe to the blog, we will send you an e-mail when there are new updates on the site so you wouldn't miss them.
Comments
No comments made yet. Be the first to submit a comment