Jasu Wonder World tarjoaa sinulle laajan valikoiman Jasu Hintsalan taidokkailla kuvituksilla varustettuja taidetuotteita, sekä originaaleja taideteoksia.  Tervetuloa tutustumaan nettisivujemme antiin!
Hei! Minä olen Jasu, se taiteilija.
Urani taiteilijana alkoi virallisesti vuonna 2016 perustaessani oman Jasu Wonder World –yrityksen, ansaitakseni elantoni tekemällä sitä mitä rakastan. Taiteen tekeminen on ollut osa elämääni niin kauan kuin pystyn muistamaan, ja pienen lapsen epämääräisistä töherryksistä luomukseni ovat vuosien saatossa muuttuneet mestariteoksiksi. Mutta taide ei ole ainoa asia elämässäni, joka on läpikäynyt valtavan muutoksen; Luomieni tarinoiden kautta haluan jakaa taiteilijanurallani oppimiani ja kokemani asioita. Ne ovat kertomuksia siitä, kuinka nousin syvän masennuksen syövereistä tunteitteni tiedostamiseen. Vuosia jatkuneen itseinhon ja epävarmuuden jälkeen tein päätöksen antaa kaikkeni unelmalleni, enkä olisi ikinä osannut kuvitellakaan mihin tämä päätös tulisi minut elämässäni viemään.
Täällä voit lukea Jasun täysimittaisen biografian
Possibly the most outstanding creations of Jasu are her watercolor paintings. Usually her colorful and amazingly detailed paintings are nature,animal, and fantasy-themed. Because of their great popularity, the watercolor paintings are decorating most of the Jasu Wonder World products. Jasu's first illustrated book for kids, "You Surely Have a Long Neck", also features artwork made with watercolors and is certainly not going to be the last of its kind.
Jasu Wonder World products include t-shirts, cards, stickers, coloring books, magnets, keychains, sketchbooks and of course, prints of different sizes. All the artwork featured on these products has been created by Jasu. The variety of Jasu Wonder World products is steadily increasing and if there's something you'd like to get but cannot find on the online store, please contact the artist through email: [email protected]
Writing and illustrating stories, in a form of a comic or an illustrated book, is Jasu's greatest passion. You can expect more of these kinds of books to be available in the future, but for now, you can get one of Jasu's coloring books or a small sketchbook. Her first illustrated book for kids, a story about a giraffe named Sebastian, is currently waiting to get a response from various publishers. Let us all keep our fingers crossed to soon have a real, hard-cover version of "You Surely Have a Long Neck" in our hands!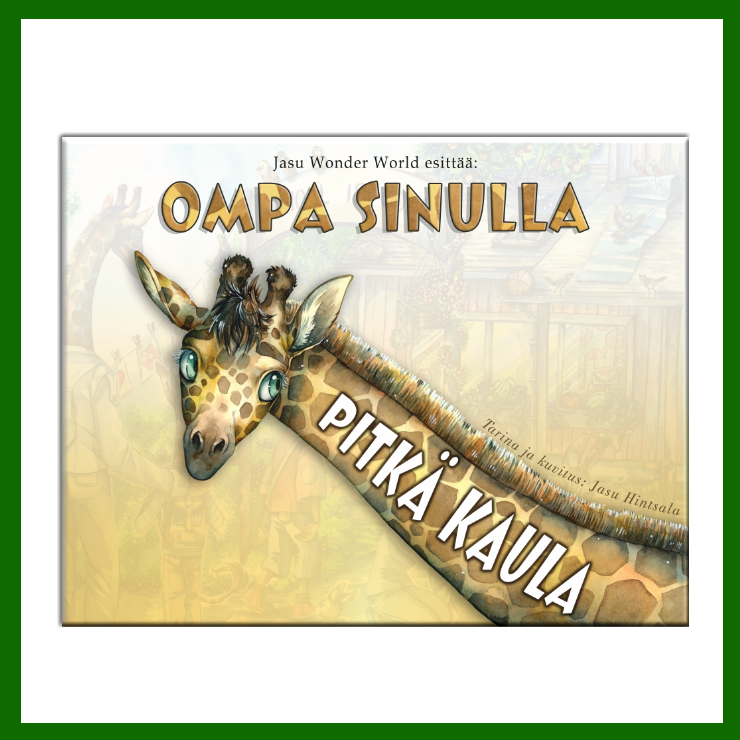 Jasu accepts commissions of all kinds. Whether you are a private person wanting a painting in your house, or a company in need of desgin work, she can do the job for you. So far Jasu has been commissioned to create portraits of various kinds, logo designs for companies, and even small animations. The price of a commission depends on what the artwork is going to be used for and the amount of time it takes to create it. The time used for the commission depends on the size of the artwork, and the amount of details it has. For any inquiry about commissions, email the artist at:
"Onpa sinulla pitkä kaula"
-kuvitettu lastenkirja
Mitä tapahtuu, kun kirahvilapsi joutuu kiusatuksi koulumatkallaan? Sebastianin tapauksessa se kääntää koko hänen maailmansa ylös-alaisin. Ennen niin iloinen ja energinen poika muuttuu hiljaiseksi ja sulkeutuneeksi. Mikään ei enää tunnu samalta kuin ennen ja Sebastian haluaa päästä eroon epämiellyttävästä kivusta, jota hän kantaa sydämessään. Mutta kuinka näkymättömän haavan voi parantaa? Onko olemassa lääkäriä, joka voisi korjata pienen pojan sirpaleisen sielun?
NOW! Available for purchase
Kerro mielipiteesi Jasun taiteesta!
"I've been following you for quite a long time actually....and I absolutely love your work! Your art style is simply amazing and, well, I wonder if I could find a fanart that I made 3 years ago as a present for you as one of my favourite artists. I can see how much you've grown in your
Kuinka tilataan alkuperäinen taideteos?
Siirry tilaustyöt-sivulle saadaksesi lisätietoa taideteoksen tilaamisesta. Voit myös olla taiteilijaan yhteydessä puhelimitse (+358 46 9389546), tai sähköpostitse ([email protected]) 
[creativecontactform id="3"]
1. Ot
Siirry tilaustyöt-sivulle saadaksesi lisätietoa taideteoksen tilaamisesta. Voit myös olla taiteilijaan yhteydessä puhelimitse (+358 46 9389546), tai sähköpostitse ([email protected]) 
2. M
Rough examples to help you get an idea of the commission prices can be found here. 
3. Can I buy prints of your original artworks?
Yes. You can order the prints here.
you're interested in ordering a print larger than what there is offered in Wonder Shop, please contact the artist about your inquiry. ([email protected])
4. Can I buy your original paintings? How much do they cost?
All the original artworks that are on sale can be found with their prices here.
5. Can I purchase your products online?
Yes. All the products available for online purchasing can be found on Wonder Shop.
6. Do you ship worldwide?
No. For now, in addition to Finland, we ship to EU countries, USA and Canada. However, we are working to get more countries added to our shipping list.
7. What material are Jasu Wonder World t-shirts made of and how should I wash them?
The shirts are 100% cotton and can be washed in a normal washing machine. Turn the shirt inside out and wash it in 40 °C.
Pidätkö näkemästäsi? Tilaa uutiskirjeemme ja pysy ajantasalla Jasun uusimmista luomuksista!
Tilaamalla uutiskirjeen saat ilmoituksen uusimmista julkaisuista, taideteoksista ja tuotteista!